Manifestations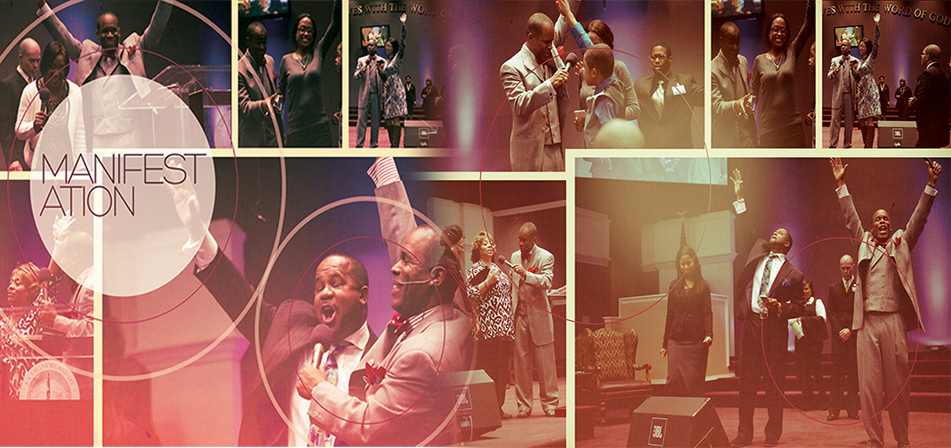 God is doing GREAT things. We have experienced 891+ manifestations of miracles, and the manifestations keep coming.
Here are a few highlights:
A woman had a call and was recognized by her supervisor receiving a $100 (gift card).

A woman prayed with a friend at work and by direction of the Holy Spirit told her to "be obedient". Her friend told her later that when she went to pay a $337 medical bill, it was cancelled.
A lady was looking for a new car and was preapproved at 8.4% interest. She couldn't find what she wanted and preapproval time expired. She went to another financial institution and was pre-approved again at 2.4%. But when she tried to get car loan, they wouldn't approve it. The dealership called and matched the rate themselves without credit union. When it was time for her first car payment, she received a child support check after many years of not receiving it.
A woman had brain surgery on brain tumor. It was completely removed and she is recovering well.
Man pulled muscle in both shoulders while using power washer; now he is in no longer pain.
Man received healing in his left shoulder.
A young lady's shoulder has been in pain all week; now, she is in no more pain
A man separated his shoulder playing football three weeks ago. This week, he was able to practice and play.
On Tuesday, a woman received full revelation that God is her provider. The next day, she checked her account and it was negative. She started to worry, but stopped and praised God. When she looked into it, she realized all her outgoing payments were taken out twice. All her money is back in her account.
Young lady wanted to sow into Pastor today; but, didn't have anything to sow. In church, she received a text about money binge deposited in her account, so she had seed to sow.
Woman's left shoulder was injured and in pain; but, now she can lift and move it.
A man can now bend over with no pain in left hip.
A woman would wake up due to throbbing in left shoulder. When Pastor said left shoulder, it was immediately healed and she can lift and move it with no pain.
Today a man was able to attend church for the first time in four years due to his job, and working up nerve to do ,and he feels God working in his life.
A young lady had both of her shoulders dislocated as a youth, making it difficult to sleep and move freely. Now she can lift them up and move them for more than 5 secs which was not possible before.
Woman received healing in her hip - no more pain!
Woman healed online, no more tightness in left shoulder or hip.
A couple of weeks ago, Pastor taught on "It's already done" with watch and & lap cloth display.  Next Sunday, she received manifestation; her dream car was a white BMW, but knew her husband would only pay cash. She saw the exact car she liked in a parking lot, and her husband encouraged her to look closer at it. She realized he had keys to it in his hands because it was already hers.
Woman was diagnosed with diabetes. She had complications that required a gastric bypass in March. She still had a lot of nausea and vomiting. She went to new hospital and found out the medicine she was prescribed was making her sick. Now, for the last 9 weeks, she has had no complications and throughout all 5 years of being challenged with this, she has not missed a single bill payment .
Back in August, after hearing many people give testimonies about receiving $500 bonus at work; a woman told God she wanted one as well. Due to the unlikely financial situation at her job she felt it was not possible. Last week received email letter that she would be receiving a $300 bonus. The exact amount she wanted to sow for Founder's Day.
A young lady was looking for a part time job and applied for 3 jobs. She was invited to interview for all 3 and was offered all 3 jobs.
Woman started experiencing bad chest pain and tightening in her jaw on Monday after listening to Apostle's Praying Grace message. On Tuesday, it had not gone away completely, but while listening to Pastor preach on how it's already done; she received the revelation and has not been in pain since.
Woman has been moving out of her comfort zone at work and went for a promotion, and got the promotion with a 12% pay raise.
A woman while looking for a new car, she was able to get car she wanted with no down payment; she also started a job with commission and an increase in pay.
A young woman, while pulling into driveway at home, the car wouldn't move and heard a loud pop. She didn't want to block the street or the driveway, so she tried to pull it into garage. It wouldn't move - she prayed for God to help her and car started moving sideways into the grass. She later found out that the tire rod and axle broke, which should have made it impossible to move.
After someone broke into her home, a woman had a damaged the water heater and back door. Also stolen was the air conditioner; but, those were all the items that needed to be replaced in her home anyways. Insurance replaced everything totaling $800. She only had to pay $100, and she received 5% raise on job and won Paul McCartney concert tickets.
A woman was talking to her sister about her desire to buy a house. Her sister suggested a program at Huntington Bank. She didn't want to contact them because she believed she owed them $700 for fees from years ago. Instead, they sent her a refund check for $75 for an overpayment she made years ago.
A young lady, for  three years has was worked a 2nd shift job that included Sundays, so she would have to leave church early. She starts a new 1st shift job with Sundays off, and while at the exit interview, she was reminded to use the money on her insurance card before it ended with her departure, so she was able to pay off a medical bill.
Woman's employer is giving her a $1.25 raise for the 3 month holiday season.
A woman was a team leader of 37 people because she was given the team of someone who didn't like her. She applied for manager position and sowed a seed into Pastor along with it. She received position with a $12,000 salary increase. She also was able to write her own announcement of new position. She spoke about her work history and also how she serves in marriage ministry counseling couples. Her coworkers related so much to her ministry related experience more so than anything else that was written.
Woman had an emotionally difficult pregnancy with bad dreams about death. Then, when it was time to deliver, the baby's shoulders got stuck. When she fully delivered, the baby was lifeless and had to be resituated. She began breathing and had no problems with her shoulder or neck. After delivering, Breonna started hemorrhaging and her ovaries had moved to the wrong place internally. The doctors thought she would need a blood transfusion because she lost so much blood. But, the bleeding stopped and she was able to go home the next day.
A woman got into a car accident on the way to church on Tuesday, but was glad to still be able to make it to church. Due to limited sleep and a long work schedule, she had pain in her feet this morning and was concerned she wouldn't be able to dance with dance ministry; but, she was able to dance as hard as she wanted pain free.
Woman had numbness in her finger and doctor said it was arthritis; she knew that being connected to Pastor and Apostle Thompson, that she can receiver her healing. So she called her hand healed and doctor said there's now no more arthritis.
While sitting in Supernatural training, Pastor sowed $300 into a woman and she knows it was by the leading of the Holy Spirit.
A woman is planning to relocate and wanted to stay with same company, working from home. Her company didn't have a branch in her new city. The HR director told her on Monday that she would try to work something out. On Tuesday, she was told she can work from home in the new city. It will only be part time, but she'll still receive full time pay.
After retiring, a man was offered a job without really looking for one. Now that he wouldn't be working from home anymore, he needed an additional car for his family. He always wanted a Mercedes and was able to get one even better than he was expecting.
Woman had surgery on her knee 2 years ago and would experience pain and swelling. She was in pain thins morning but was determined to come to church. While Pastor ministered on our healing already being done, she left cane at the altar and is walking pain free.
Woman was diagnosed with degenerative disease 11 years ago and would have trouble walking. She had been receiving injections and taking medicine for the pain. Today, she was able to stand during praise and worship, and get up and down multiple times with no pain.
Man was experiencing pain in kidneys last night and this morning. While sitting in the encounter, pain is gone.
Young lady was diagnosed with degenerative disease in her back. Last Sunday, while Pastor spoke healing over the congregation, she felt 3 shifts in her spine, and she has not experienced any pain since.
Woman has been jogging for exercise, but knee was hurting some; during the encounter, she felt knee pop and pain is gone.
For a couple weeks, a young lady has been experiencing chest pain and some trouble breathing; now she is in no more pain.
A lady had a miscarriage and has felt pain in ovaries since; but, now pain is gone.
A mother's son was injured in a football game and was planning to tell Pastor and have him pray as well. On Tuesday, while ministering, Pastor prayed healing for everyone connected. She received that as the prayer. Her son went back to practice on Wednesday.
Young lady testified previously about receiving healing in gall bladder; but, pain has been coming back off and on. She was in so much pain yesterday that she was dry heaving and she was still in pain this morning, but while Pastor ministered, the pain lessened. While running, the pain went away completely.
A woman was visiting from Maryland and had pain in left arm. While Pastor ministered, the pain went away – she is going back to Maryland pain free.
Woman was diagnosed with aggravated arthritis in left knee, while ministering with CMA on Tuesday; pain went away and has not returned.
A man's car was stolen but now it has been found- miracle of transportation
Last Tuesday, Pastor spoke prophetically that jobs would be calling. After 8 years of unemployment, a single mother applied for a job earlier in the month. They called on the Thursday after Pastor prophesied and after the interview, she received the job after 8 years of unemployment.
A woman's car payment interest rate was decreased.
A woman was a victim of credit fraud in July, and the bank decided to reverse the charges.
Woman told God she wanted to feel what it's like to not have a car payment. She received a bonus at work that allowed her to pay off car note.
A man called AT&T to close an account he's not using; but, the told him that he would receive a credit instead if he doesn't cancel the account, and keeps it open. Now he has phone line with unlimited talk and text and a credit in his account.
Yesterday, her eye was hurting from using old eye shadow. She went home and had husband pray with her. The pain diminished, but was still a little itchy. Today, during the encounter, all pain and itchiness went away.
A woman led 10 people to Christ and facilitated 2 people in getting filled with the Holy Spirit last month
A woman hit a pothole and it damaged her tire and rim. First repair place said it was irreparable and she would have to buy whole new rim for $2000. She prayed and God led her to right person at right place; she ended up only paying $32.
A lady's aunt desired to move into a senior housing facility but was #8 on waiting list. After they prayed for favor, she received a call two days later telling her she could move in stating that the other seven people in front of her where not ready to move in.
Driving by a panhandler a woman prayed for him in her car. As soon as she finished praying, he dropped his sign and looked around as if he heard or saw something.
A woman was experiencing stomach pain all morning; but as Pastor ministered, pain went away.
A man's son had an accident and was told his arm was broken. They did not accept that and received instructions from Pastor instead as instructed they asked for another x-ray. Finally after praying, his son felt his arm heat up, then received third x-ray - this time they found no broken bones and no surgery will be needed.
A woman's knee had been hurting for about a week. During praise and worship, it popped and now pain is gone.
This morning, a man was in back and stomach pain to the point, where it was difficult to move. When Pastor instructed us to check out bodies, the pain was gone.
A man came to church this morning, his back started to hurt. During the time when we offered love to God, he realized pain was gone.
Last Saturday, a woman was rear ended; she prayed with the passengers of the other car and everyone is okay.
While training at work this morning, a man reinjured knee that he recently had surgery on. When Pastor said to check our bodies, the pain was gone.
A woman put her house on the market last Monday, and received offer on Saturday. Today, it sold for the full asking price.
Young lady was unemployed for two weeks, but now is manager with a $19,000 increase.
Before leaving work today, a woman's supervisor told her she was getting promoted from billing accountant to manager of client finance with a $4,750 salary increase.
Last Tuesday, his step father was in hospital with blood sugar level of 1010. Son in law locked it up in the Spirit. A few hours later, it was down to 350. He was released from hospital on Sunday
A woman was laid off two weeks ago; while serving at the church, a couple that owns a business offered her a job
Woman had been paying on a student loan, and called to find out her balance and was told it was paid in full and she is due a refund.
Woman has had a peace since Dr. Tracy introduced the "no complaining" challenge and participating in early morning prayer. She feels like struggle in life is over.
Woman needed to have a cell test done, but didn't have the money to pay for it. Few days later, someone called and said they would pay for it. She had not been able to go in for follow up. Two weeks ago, she received letter saying total for the test was $2,026.42 with adjustment of $1,836.40 leaving a balance of $190 but it had already been paid. She called them and they were concerned if she presses the issue too much, then they will tell her that she owes the total amount. Finally, last week, supervisor called back after reviewing her account and cancelled debt of the entire bill.
Next day, a the woman received notice of an $88 debt cancellation. 3) On the same day, the woman went to bank to close an account, but after speaking to regional manager, he reversed all fees and charges . 4) Later that day, the woman received notice in mail that her car warranty is being extended another 10 years and she'll be receiving free software update. 5) Also that day, two medications that she needed that she had not been able to receive because of certification issues. They both called and said they were ready to be picked up and when she went to get them, they were both free.
Woman went to the doctor two weeks ago and found out her blood pressure was high. Last Sunday, while at the altar, she called herself healed. When she went back to doctor on Thursday, her blood pressure had dropped.
A woman's income at her job had dramatically decreased in the last few months, so she was trying to get temporary part time job. She applied for a job on Saturday, was interviewed on Thursday and hired on the spot. Her pay will be $1/hr more than she asked for.
A woman was just released from prison and was ministered to by the prison ministry. She came to experience it first hand and was not disappointed.
A man went to bank to open an account, and while there, they found out that he was a loan officer. They had an opening and he sent his resume; two days later, he was interviewed and offered position on the spot. He starts new position tomorrow morning; the job has a strong base salary, with commission on top.
A man just received $500 bonus at work.
A man just got a new vehicle.
A man received a $500 bonus.
A woman took a job as directed by the Holy Spirit, even though the pay wasn't the amount she desired. When she got the official offer letter it was $2 more an hour than she was originally told.
A woman after having turf toe and wearing a boot for past 5 weeks, she is now able to comfortably wear heels again.
Before Apostle Thompson came, Pastor told us to be expecting. A woman expected to get off blood pressure medication she had been on for 14 years, and at her doctor's appointment she was taken off the medicine.
A man moved into a new home.
Coworker had stomach pain and was told there was something wrong with her bowels and spot seen on her lungs. But a woman quietly prayed for her while she was explaining the situation. The coworker came back and reported the spot was determined to be nothing.
Two weeks ago, while at lunch, Holy Spirit used her to lead 2 people to Christ.
For 2 years, a woman has dealt with an ingrown hair follicle. She had it lanced in April, but it didn't heal properly and was sore to the touch. When Pastor was praying for skin issues, she received her healing. The next day the incision burst, it was infected for a little bit, but then healed up completely and she is in no more pain.
A man received consultative sales position that he has been believing for.
A woman's father was in the hospital and unresponsive. She called church and prayed with two officers, and when she went back to the hospital and he was still unresponsive. After she anointed him with oil and prayed some more, she turned her back and heard him asking for food. He's now awake and alert.
A man came to church with pain in his shoulder and now he is pain free.
A woman came for  6am prayer, and when she returned home, it had been broken into. She had been feeling that she wasn't safe in her home anymore. After receiving Pastor's message about protection and promotion, she knows that she is protected and covered.
Three weeks ago, a woman lost sight in left eye, and a doctor said it may never come back. She heard Holy Spirit tell her "It's not over until I win and God can't fail," now she is able to drive and vision is improving.
Young woman, was experiencing eczema and muscle spasms. Both were healed while watching encounter online last week.
Since walking in her purpose more a young woman had been getting attacked by enemy more, and it was making her back off from who she really is- a bold and encouraging woman. Today, while Pastor was preaching, she felt something break off her and her boldness is restored.
Young lady's wisdom teeth are coming in and it was painful and hard to chew. Then she just realized the pain was gone.
A man couldn't sleep last night because of shortness of breath and pressure in chest. Last night, he prayed for enough strength to make it to church this morning, because he's submitted to government and wanted to be present. While sitting in encounter, the pressure in his chest is lifting and the pressure is going away.
Last week was anniversary of son's death, young woman was feeling down; but, she went to restroom and another saint told her that whatever she's holding in to, she needs to let it go. She followed thru a little bit; but, the next day she fully submitted and now has a fire for Columbus Christian Center and in Holy Ghost.
Young lady, was experiencing pain in shoulder yesterday, and just realized pain is gone.
A woman's arm has been in pain to the point where it hurt to lift it and it kept popping. While praise team sang, "Let the healing flow", Holy Spirit told her to lift arm, she did and now pain is gone.
Couple was in car accident. The wife is pregnant; her and baby are ok and their other child who was in car is okay.
A man met with an insurance agent who mentioned being in 2 accidents since May so was suffering from some short term memory loss. He prayed with him; after praying, the agent said he felt like he was being wrapped in angel's wings.
A young man had been believing for a new car, specifically a BMW. He was obedient to God when it came to sowing and would give whatever amount God told him to give, he now has a 2010 BMW
Young man as believing for a promotion and sowed toward that as well, now he has a manager position in the athletic field.
A  landlord had a renter in her home that she owns, that was won over by her love and now is member at CCC and filled with the Spirit
The landlords tenant had a son that flunked a grade, after her husband tutored him, he passed with all A's.
A lady received an email from United Airlines stating that she could not get refund for trip that had to been cancelled due to passport issues, but the money was already refunded to her through Expedia.
Husband and wife believed God that He would give seed to the sower for all the seed opportunities this year at CCC, the received unexpected income in the amount of $2700 that covered Red Zone seed
A wife's coworker blessed their son with 3 pairs of Jordan's and 3 pairs of Nikes
A man on a Tuesday, discovered his phone was not charging even after trying many different things. He was planning to go to Apple after Kingdom College but didn't want to leave before being dismissed. While people were sharing testimonies, Holy Spirit prompted him to lay hands on his iPhone. The next morning, he plugged his phone in, and began to read Bible, as he was reading, he heard his phone vibrate indicating that it was charging.
A lady owed an amount on taxes and it was decreased from $9000 to $106.
A lady returned from Camp Meeting 2015 and received a $9,200 contract on top of regular salary.
4 new jobs.
$600 decrease in mortgage.
A young lady 3% raise.
A married couple paid off both cars.
Returned from Camp Meeting 2015 with 3 job offers.
A man's right shoulder had been catching and has been in pain for couple days. While watching Camp Meeting 2015 online on Thursday night, Apostle called for healing in arms. He noticed his arm was no longer in pain.
7 ½ years ago, a man was let go from government position. It was always his desire to return to that field so he has applied to many positions over the years. He interviewed for a position in March. On June 9th, he was selected to move forward. They did background check and found a problem with his 2008 taxes. He had 2 days to fix it. He went into tax office and was helped by another CCC member. He originally owed $1200 knocked down to $33. He'll start his new position with 27% pay increase.
3 weeks ago, Pastor mentioned inheritances at Kingdom College. A lady received an inheritance right before Camp Meeting that took care of all her expenses. Then a mistake was made on her taxes and she received check back for $1111.40.
A young man has been dealing with something since he was 11 years old, and God led him to fast this week and now is set free.
A lady was not able to attend yesterday encounter when Dr. Tracy prayed specifically for women with pain on the right side. She had been experiencing pain on right side of her face for 2 weeks; but, while serving Dr. Tracy in the back, Dr. Tracy laid hands on her and she felt her ear unclog and the pain is now gone.
Granddaughter had been sick for 3 weeks with diarrhea, and was supposed to start daycare earlier this week but couldn't because of diarrhea. Today, she was able to go to daycare today with no problems.
Man's co-worker's had a 6 month old grandchild die. Prayed with co-worker, and while they were praying she got a text that baby just coughed, cried and is alive. A man's other employee found lump on bladder. He prayed with her; she came back and reported there are no more lumps.

A lady has a coworker that she's been looking for opportunity to minister to; one day, her coworker told her she wasn't feeling well. She said she just had a headache and was pregnant. They prayed right there on sales floor, then coworker came back 2 days later and reported that she had cyst in stomach but now it's gone.

A woman had a CT scan today, after Dr. Tracy praying with her yesterday about nasal cavity polyps. Doctor said polyps are all gone. 2) Her friend delivered baby at 23 weeks and was not expected to live long. This week breathing tube removed and no longer has to use heating machine. Baby is alive and well.

A woman came to church with pain on her right side and now all the pain is gone.
A woman had been experiencing pain in nasal cavity and bad headaches since she was 7 years old because of polyps in her right nasal cavity. But now all pain is gone.
A woman was experiencing pain from root canal for past 3-4 weeks. Dr. Tracy called people experiencing pain to the altar for prayer. She was obedient and came up for prayer but was healed before she could be prayed for.
Woman had a closed tear duct and was scheduled for surgery but it kept getting postponed. She had been in pain over year and now she feels no more pain. She is also now free of past hurt and infirmity.
In May, a man interviewed with three different departments at a company. He received offer with pay increase of about 18K a year. He gave his two week notice to his current job and was scheduled to begin new job on June 8th. On May 27th (the day after last day at current job), he received call from new job saying that a legal matter in his background check will disqualify him for the job. He prayed with his wife and said, "Lord, show me Your glory." Two hours later, different department from same company called and offered him another position that was not going to be as much of a pay increase but had opportunities for bonuses. He explained what he was just told and they said that was not an issue. A few days later, that department called back and said the legal issue will cause them to rescind the offer. He talked to his attorney and he was able to get letter from attorney explaining situation but was told that will not make a difference. On May 31st, while Pastor was ministering on being in the wilderness, he was led by Holy Spirit to sow a specific seed and he did. He listened to all the testimonies about jobs and rejoiced with everyone else. The next day, June 1st, he received email from first recruiter asking for the support documentation that his attorney had. After sending that, he was offered initial job again with the 18K pay increase.
A mother sent a text to her daughter, when Dr Tracy was praying for people with pain on their right side. The daughter responded, "I receive my healing!" Mom asked to let her know when pain is gone. 3 minutes later, daughter said she can chew normal and open jaw all the way for the first time since November 2014.